#0054 Mini Spring Clamp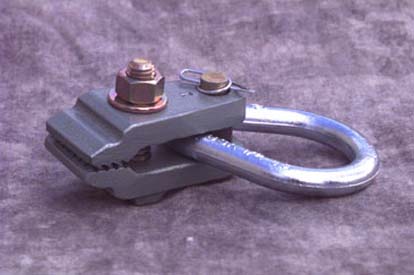 Spring loaded for easy opening. Includes Oval Loop for use with Slip Hook for easy hook-up. For light sheet metal in those tight places. Cross-hatch tooth design for an agressive bite. Clamp has raised "ears" to hold bolts stationary, for easy, one-handed tightening.
Gripping Surface: 1½" (39 mm), ¾" deep (19 mm) Overall Length: 6" (152 mm) Weight: 3 lbs (1.36 kg) Capacity: 3 tons (2,722 kg)
Replacement Parts: #5225 Nut, Bolt & Washer, #5220 Clevis Pin & Rue Clip, #4043 Oval Loop, #840078 Spring
Heat Treated Steel. Made in the U.S.A.