#0205 Dyna-Mo C Clamp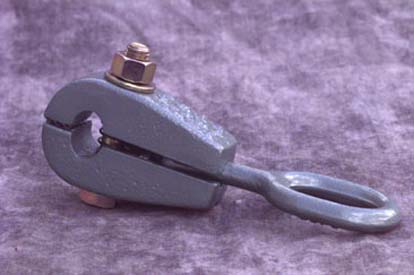 New generation of Mo-Clamps. Self-tightening. Great for getting over lips or edges. Drop-forged round wedge to keep the twist out of chain, agressive cross-hatch tooth design, spring-loaded for easy opening.
Gripping Surface: 1¼" wide (32 mm), ½" deep (13 mm) Overall Length: 7" (178 mm) Weight: 2 lbs (.91 kg) Capacity: 3 tons (2,722 kg)
Replacement Parts: #5246 Nut, Bolt, Spring & Washer, #9702 Wedge
Heat Treated Steel. Made in the U.S.A.