#1370 Curved Clamp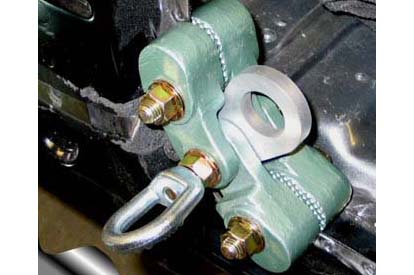 The new generation Mo-Clamp features actuating jaws, for getting around multiple angle curves and bends. Heavy duty pull rings allow for both verticle and horizontal pulling. Cast-in cross-hatch tooth design means no slippage when making pulls. Rated at 5 tons for tough pulls. Made from Mo-Clamp Tru-Tuff® steel alloy.
Gripping Surface: 7" wide (178 mm), 2 " deep (19 mm) Overall Length: 8" (203 mm) Weight: 11 lbs (4.99 kg) Capacity: 5 tons (4,536 kg)
Replacement Parts: #4051 Eye Nut, #5260 Nut, Bolt, & Washer
Heat Treated Steel. Made in the U.S.A.