#2400 3MA Multi-Adapter Plate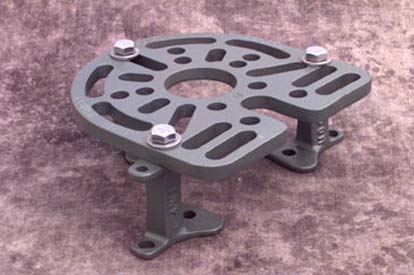 Designed for a wide variety of strut towers. Permits fast hook-ups and pulling in any direction. Allows center strut tower measurements with tram gauge instruments. Gives additional versatility for pulling over and around obstructions such as fenders. Also use in conjunction with #1450 Numerous Angle Puller (NAP)™ to give it even more versatility. Includes three 4-way legs. Large-base legs give good support for pulling, with four hole sizes to accomomodate most vehicles.
Overall Length: 9" (229 mm) Weight: 11 lbs (4.99 kg) Capacity: 5 tons (4,536 kg)
Replacement Parts: #5230 Bolt & Washer, #9450 Leg, Bolt, & Washer
Heat Treated Steel. Made in the U.S.A.