#3100 Swivel Head Sheet Metal Hooks (set of 4)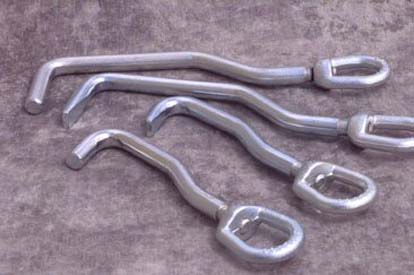 Alloy heat-treated hooks increase pulling options. May be used with #0810 and #0820 Hole Pull Plates to pull, or use in combination with clamps. Set includes one each of #3110, #3120, #3130, and #3140.
Weight: approximately 2 lbs (.91 kg) each Capacity: 2 tons (1,814 kg)
Replacement Parts: #4051 Eye Nut, #3110 Small Flat Nose Hook, #3120 Small Round Nose Hook, #3130 Large Flat Nose Hook, #3140 Large Round Nose Hook
Heat Treated Steel. Made in the U.S.A.