#5090 No.9 Tool Board w/ Tools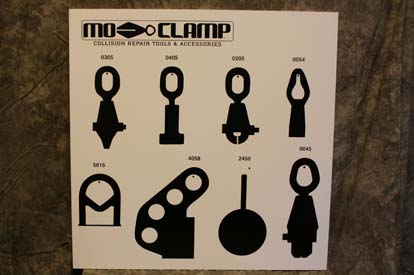 Keep your tools organized and in good condition with handy tool boards.
The package includes the #5091 Tool Board with Hooks, #0045 Angle Bite™ Clamp, #0054 Mini Spring™ Clamp, #0205 Dyna-Mo™ C Clamp, #0305 Dyna-Mo™ Jr Clamp, #0405 Dyna-Mo™ W Clamp, #2450 Boltless Strut Tower Puller, #4058 MAC II™ Multi-Angle Clamp, and #5616 Door Post Puller/Twister.
#5091 Toolboard Dimensions: 2'x2' hooks are included Total Weight: 40 lbs (18.14g kg)
Tools are Heat Treated Steel and Made in the U.S.A.