#5810 Down Pull Assembly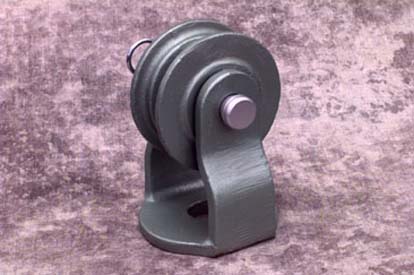 For straight down or angled pulling. Works with pulling towers and bench systems. Large 5 inch wheel prevents undue chain wear. Secured with 1 inch heat-treated pin. When used with the #5811 Block Pulley Adapter it offers horizontal pulls.
Overall Length: 71/2" (190mm) Weight: 16 lbs (7.26kg) Capacity: 5 tons (4,536kg)
Replacement Parts: #840067 Clevis Pin, #840068 Cotter Pin, #840086 Wheel Only
Heat Treated Steel. Made in the U.S.A.