#6420 Mini Deep Hook Set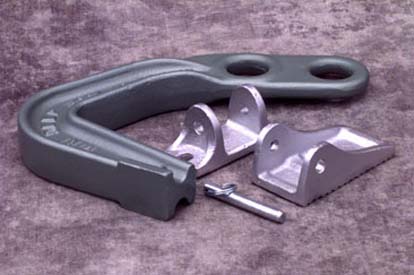 For fast hook-ups on cowls, door posts and trunk openings, or to reach into cramped places. Includes #210060 Horizontal Bracket and #210070 Vertical Bracket. Brackets are interchangeable with the #6400 Regular Deep Hook Set and #6410 Jumbo Deep Hook Set.
Overall Length: 13" (330mm) Throat Depth: 6" (152mm) Throat Opening: 9" (229mm) Weight: 15 lbs (6.81kg) Capacity: 4 tons (3,629kg)
Replacement Parts: #210060 Horizontal Bracket, #210070 Verticle Bracket, #520050 Pin
Heat Treated Steel. Made in the U.S.A.